Bombay Stories by Saadat Hasan Manto 
Translated by Matt Reeck and Aftab Ahmad
Vintage International
First published in The Beacon
Mention Saadat Hasan Manto's name and a landscape of tragedy unravels in all its grotesqueness. That he has become almost a Siamese twin of the Partition stories he wrote is a minor tragedy in itself. In both age and disposition, there is an altogether different Manto who predates his avatar as a chronicler of the Partition. Bombay Stories introduces one to this earlier Manto, and with him, the city that built his reputation as a writer. The same city that enabled him to become an indubitable annotator of "lowlifes."
Manto's Bombay (yes, still very much Bombay), part of pre-independence India, boils with cosmopolitan chaos. As a pot that melted extremes, the city became a home for everyone, from the business tycoon to the migrant labourer and the prostitute. The last group drew Manto's literary imagination with an intensity bordering on obsession. Nearly every tale in Bombay Stories features a prostitute, even if she isn't the central character. The skin-brushing proximity Manto evinces in projecting the lives of sex workers raised many an eyebrow in his lifetime. He had been accused of employing obscenity in his stories. One can see why. Manto presents the prostitute in her grimy and broken hovel, stripping her of exaggerated fancies of glamour and lust. The realism apart, the bigger surprise Manto packs in these stories is his not-so-hidden feminist agenda.
When Kanta opens the door to him stark naked, Khushiya, a pimp, is shocked and asks why she doesn't have any clothes on.
          Kanta smiled. "When you said it was you, I thought, what's the big deal? It's only my Khushiya, I'll let him in…"
The woman's brazenness hits Khushiya as a whack of insult. It torments him that she could consider him so insignificant as to think nothing of appearing naked in front of him. This weird conflict in the pimp's mind is a projectile of writerly brilliance. Who would think that a prostitute's nudity — her most lascivious and prized offering — could be turned on its head and into a weapon to injure the male ego?
Manto's prostitutes are the axiomatic flesh-and-blood, but they are more. They have beautiful minds of their own, which they exercise despite the compulsion of being tied to the body to pay for food.
The most visceral demonstration of this happens in The Insult, where Saugandhi, a sex worker kicks patriarchy in its shins instead of remaining in its bubble wrap of faux security. Ironically, Saugandhi's provocation comes not from sexual exploitation but rejection from a potential customer. A man with whom her pimp sets her up says "Yuhkk," in apparent revulsion and dashes away in his car. In the man's single meaningless utterance, Saugandhi (literally, fragrant-smelling) decodes a lifetime of humiliation that masculinity has heaped on her. It is in her getting even that Manto concentrates the story's greatest force. Shortly after the rejection episode, Madho, Saugandhi's leeching "lover" reappears with his need for money. She rips his photos from her walls and throws them out of the window uttering, "Yuhkk. That is how she seizes her moment of showing Madho — and through him, every man — his place.
In Ten Rupees, Sarita, a young girl, is forced into prostitution by her mother. The story breaks one's heart before enthralling and finally healing it — with twists as sharp as the ones Kifayat, the driver in the story – makes his car swerve to. Ten Rupees is evidence of the perversion of depraved men looking to sexually exploit a young girl. It is also proof of what the alchemy between a writer's masterly imagination and his sensitivity can do to kindle the softest core of the human heart, no matter how savage. Ten Rupees is a fantastical story, electrifyingly so because of a young girl who is just that and the Hindi film songs she breaks into unbidden. It's also an extraordinary story. Although almost a fairy tale, over the brief wingspan of its flight, it holds out the hope of coming true somewhere at some point in time.
In his depiction of prostitutes, Manto is somewhere between an exploiter and a benefactor – more like an ally. His vision has a diving mask that takes him beyond the prostitute's essential physical territory. Accompanying him to their shanties allows the reader to see them, really see them — the way they live and dream, quarrel with or negotiate their fate. It isn't difficult to find in Manto's whores a metaphor for the Bombay of the 1940s. Like her, the city welcomed in a businesslike way anyone willing to pay for the pleasures it offered them. There were no strident calls for keeping outsiders out and the place teemed with characters from different regions, religions and communities.
Only one other character could possibly make the prostitute envious with the consistency of its appearance in Bombay stories. That of Manto's. Most of the stories are in the first person, and the narrator refers to himself simply as Manto. It is tempting to take this as the author's real-life persona, but one is well advised to read this character within the fictional framework of the stories. As translator, Matt Reeck informs us in his detailed notes, the Manto of the stories isn't really a mirror image of the real-life Manto. Still, this self-depreciating, temperamental persona is close enough to the real Manto, one suspects. This is particularly true when he shares vignettes from the Hindi film industry, where he worked as a writer. He delights the reader with an insider's view of the film industry, at once an enigma and an imperishable field of gossip fuel.
Consider this principle from a ten-point list Narayan, who works in the film industry draws up for working in the studio. #3: If you fall in love with an actress, don't waste time dilly-dallying. Go meet her in private and recite the line, "I, too, have a tongue in my mouth." If she doesn't believe you, then stick the whole thing out. And#6, which rings so true, one could have written it today. Remember that an actor has an afterlife too. From time to time, instead of preening before a mirror, get a little dirty. I mean, do some charity work." [Janaki]
The translators, Matt Reeck and Aftab Ahmad have rendered these stories into English with compelling credence without over-anglicising the text. The distinct Indian-ness of the narration is well preserved for the most part as is Manto's signature sarcasm and wry humour.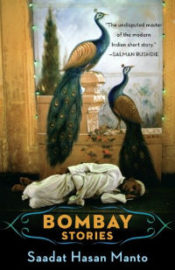 One reads Manto not just for the stories he wrote but also because of the way he embalms each story with his deep humanity, his acerbic wit and his near-allergic impatience for masks — semantic or societal. In Mozelle, technically the only "Partition" story in the collection is also arguably the most brilliant in form, content and technique. It depicts the horrors of the communal tensions of the time with such vividness and neurotic pace that the reader is stunned into a suffocating silence. This one story is also an eerie foreboding of the departure of Manto himself from his beloved Bombay, which he had to leave following Partition and from the pluralistic freedom it offered him.

Bombay Stories is therefore, is an important collection to understand not only a city but its author who, tragically, died not in but of Partition.